Hiiiii everybody!
So I'm thinking of adding in this new style of post to the blaaawg. I'm not sure how often it will be happening but I intend to do a little round-up of cool things that are going on in London that I'm thinking of doing…as opposed to just posting about them after I've done them and you missing out because they've either finished or closed or whatever. And opposed to you never hearing about them at all because I don't go and therefore don't post about them and obviously you only read MY blog for tips on all that is happening in London/Life/The World/The Universe. Duh.
So yeah…here are some things I've got on my 'I WANNA GOOOOO!!!' list for 2015 or more specifically the next couple of months. Enjoy…
1. Marco's Meatballs at The Vaults – Food Glorious Food.
I got an email about this pop-up from the guys over at The Nudge and I didn't really need much persuasion to add it to my list once I saw this picture…
I mean, would you?
Anyway Marco is the new guy on the block, picking up where uncle Toni left off after his untimely death. Marco and his big balls will be at The Vaults Festival for January, February and until the 8th March and tickets are £15 for a drink and a dish of spaghetti meatballs.
Buy tickets HERE
2. Sing For Your Life at The Vaults – Taxidermy meets X Factor.
Also at The Vaults Festival (I promise I won't just reference every single thing happening there as my list of 'cool things to do in London') is an odd offering of taxidermy meets cabaret where artist Charlie Tuesday Gates (totes went to school with her) brings road-kill to life in the form of puppets who are performing for the chance to live again! This to me sounds absolutely bonkers, a little bit heartbreaking and unbelievably hilarious all at the same time.
I would assume this isn't for the faint-hearted among us but for those of you who can stomach it, it will surely be a night you won't forget.
Buy tickets for shows on the 4th-8th March HERE.
3. Broken Hearts & Promises – Valentine's Night Out for Everyone.
Do y'all remember when I spent a Saturday afternoon making (I use that word loosely) Macarons and necking Martinis? (You don't!!! Read about it HERE.) Well a couple months back I was invited down to a masterclass by those cool Chicas at Meredith Bespoke. Long story short, it was a lot of fun and one of the better ways I have spent a Saturday afternoon.
So when Meredith and the gang invited me along to their Valentines pop-up, Broken Hearts & Promises next month I said…hells freaking yeah.
When I actually read the full ins and outs of the evening I got even more excited. Umm Cheese toasties, Prosecco cocktails, a Lulu Guinness kissing booth and a soundtrack of d.i.s.co. JUST TRY AND STOP ME.
This does mean that instead of lovingly gazing into my boyfriend's eyes and regurgitating the inside of Me to You card (bleugh pass me the sick bucket now) I'll be ditching him for a frivolous night of fun and I'll be dragging my single sister along with me. I think you should come join the fun?
Tickets are £15 and you can buy them HERE.
4. Hawker House Street Food Market – More Food Glorious Food.
It's back, it's back…it's really, really back.
God I loved this place last year – you may even remember my gushing review from last January. You can re-live it HERE. So I am so, so, so happy that night-market and street food pop-up Hawker House has returned once more.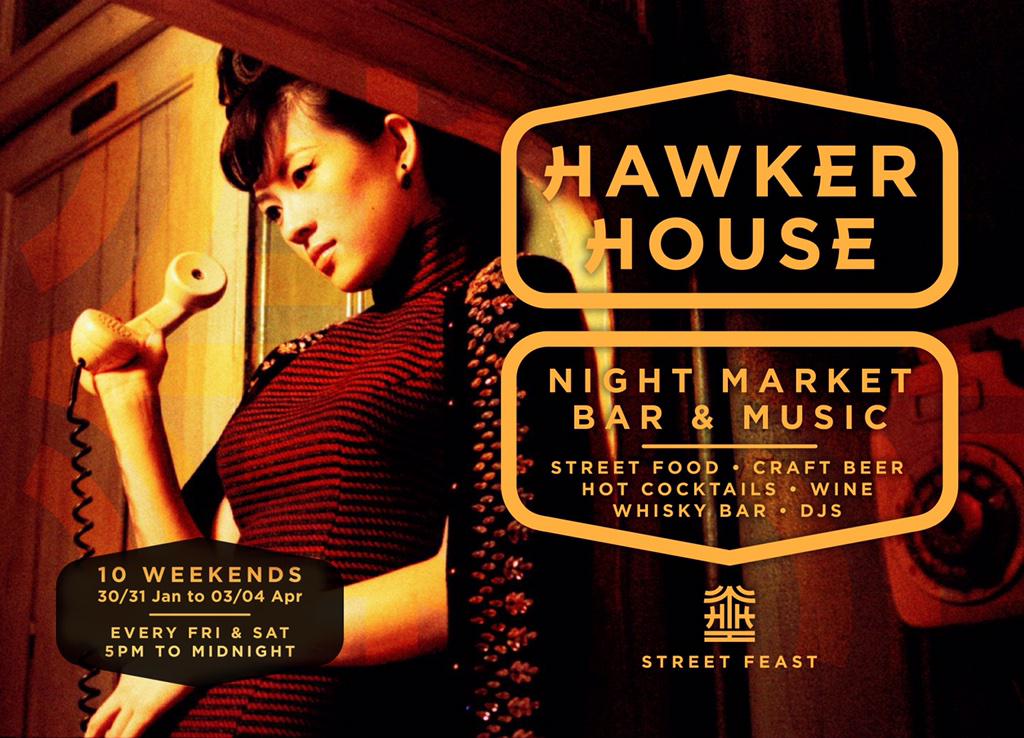 The only thing I'm slightly aggrieved about is that it's moved from Pritchard's Road (which is like 120 & a half steps from my front door) to somewhere on Kingsland Road…well HERE to be more precise.
As always, expect a whole host of tasty street food vendors including Yum Bun, Breddos Tacos, Rola Wala, and my personal favourite burger joint, Bleecker Street Burgers. There will also be a brewery load of booze to wash it all down with.
Hawker House opens next Friday 30th January and runs every weekend until the 4th April. If it's like last time then you just show up on the day and only pay after 7pm but even then I think entry is only £3.
5. A Work in Progress – Comedy Night
So apparently last Monday was Blue Monday – who knew? Not me but if I did then I had the perfect remedy for it. Tickets to see Alan Carr do a little bit of stand-up at the Pleasance Theatre just off Caledonian Road. For one it was funny, two it made a normal Monday more bearable and three is was cheap as fucking chips. As in just a tenner a ticket. Bargain.
True it may have been a warm-up for his tour, so Alan came with a table of notes and there were a few roving eye moments where he paused to remember which joke he was trying out but on the whole it was well worth the money and the effort to stay out late on a Monday when it's minus 2 degrees (or there about).
And the good news is The Pleasance are doing a load more of these cheap comedy nights. They're called 'A Work in Progress' and most are only a fiver…you can snap up some funny over HERE. You are welcome.
So there you go…those are my recommendations of cool things to do in London that I'm looking forward to so you may enjoy too! If you go to any feel free to comment below or tweet me or tag me on instagram. Just ensure you have a gay old time regardless.
Thanks for reading!
Harry x