A week or so ago, my nearest and dearest gal Daisy aka DM invited me to go with her to the Astley Clarke Jewellery launch. I hadn't heard of the brand before the invite and also wasn't really intending on sharing the event here on the blog. In all honesty I was in it for the free booze and possible celeb spots but mainly to see my best friend before heading off on holiday to Mykonos (post to come!). But then I took five and looked at the Astley Clarke website where I utterly fell in love with the jewels. As such I felt it only fair I share my finds with you dear readers. It also gives me the chance to boast about the fact that George Lamb said I had nice eyes. True story, Bro.
On the day itself I'd completely forgotten about the impending event so had a minor melt down post work when DM emailed me the supposed guest list (Alexa and a few Delevignes) and then my shitty shoe broke after one day's wear (cue stroppy tweet to Boohoo.com). I entered panic mode; how could I attend a cool fashion industry event in broken shoes, what would Alexa think? A quick "free champagne and celebs" shout from my bestest and I'd purchased a new pair of polka dot wedges, slapped on a bit of my pals makeup and run my fingers through my knotted hair. Cinderella would still go to the ball.
The event itself was being held at the stunning Serpentine Sackler Gallery in their recently(ish) built Magazine restaurant which is a beautiful stroll through Hyde Park from Lancaster Gate station. We arrived and I was so pleased to not feel overwhelmingly under-dressed. I took a glazza of chazza from a smartly dressed waiter and we waltzed in looking for somewhere to position ourselves.
The rest of the evening was a whirlwind of chatty kathyness between my girl DM and I (catching up on all the latest news we had for each other), a slurry of chocolate cake cocktails (WOW!) and trying to stay near the tray with the best canapés (a tuna summit, summit) as well as a bit of daylight robbery when some very smartly dressed jewel thieves made off with the Astley Clarke collection before politely returning it and presenting the fine line to the impressed guests.
Yup that's DM and I stood next to a particularly cute jewel thief, me obviously having just told her some next level goss by the look of it! Please also not that I don't really know what colour the end of my hair is, I always thought it was more blonde than rose gold but it appears I was wrong. Looks like a trip to the hairdressers is in order.
Later Laura Whitmore took to the decks to play that funky music and after a lot free alcohol Daisy and I finally plucked up the courage to take a snap with the uber cool and stylish Matthew Williamson who owned, owned, owned the room with his posing. Then we asked the always dashing George Lamb – who wooed us with some seriously cool shapes and told Daisy he thought he already knew her before informing me that I had lovely eyes *swoon*. That is one smooth talking silver fox. We also spotted the pint-sized Sienna Miller with her hubby Tom Sturridge, sister Savannah and Mummy Miller too! Star Trek hotty Alice Eve made a sophisticated appearance and Poppy Delevignes new husband James Cook was stood right next us the whole night. It really was a who's who of Hello! who's hot and trendy magazine!
Second to the celebs, free booze and beautiful boys in bowler hats was of course the jewellery itself. As I said, I hadn't really heard of Astley Clarke before the event invite. Shocking as though that may be, I guess it's perhaps because I'm not yet a 'jewellery' kind of girl. I have a horrible tendency of losing things so expensive jewellery is kind of off limits until I'm a bit more grown up – *she says aged 26*. That said Astley Clarke has some really beautiful pieces, and the bracelets in particular do make me feel it's time act my age and get some bling that costs more than a tenner. I have picked out around a hundred pieces on their site that are my 'must haves' sadly though the price tags are turning them into the 'lust haves'. Just check out a few of my faves below and also note my birthday is in February but I love getting gifts any old time of the year.
Simply stunning.
It was a really fun event in a beautiful setting. We had a blast downing champers, chatting, celeb spotting and laughing at the fact that Daisy kept calling George Lamb, James. Honestly, that girl. We left a little wobblier than we arrived thanks to the aforementioned chocolate cake cocktails and new wedge heels but were treated to the most beautiful London sunset as we strolled back to the tube to part ways.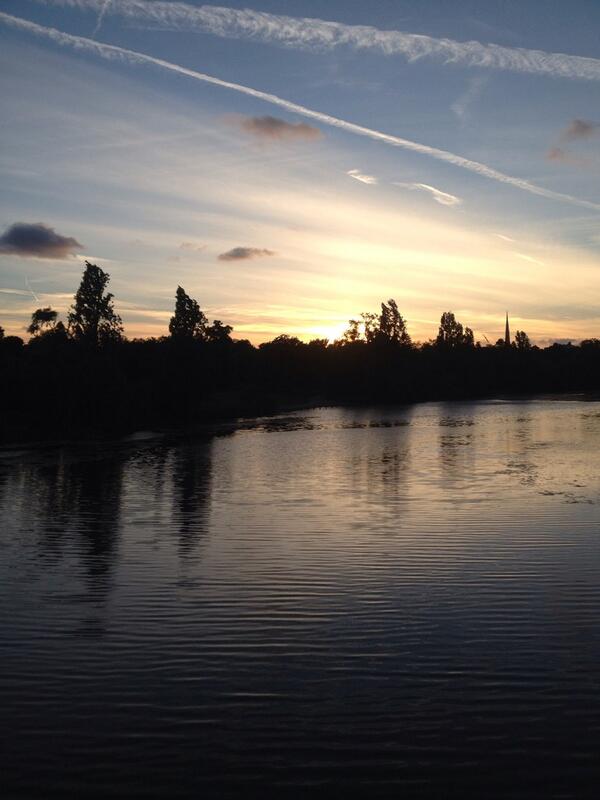 Since the event I've been dropping serious hints to my boy for future gift ideas…I just love the idea of having a few of the above beauties all stacked together on one wrist. However the good news is there seems to be a bit of a sale happening at the moment over on the site, I may just splash out and treat myself…after all I *do* deserve it.
What pieces are your favourite? Had you heard of the brand before?
Thanks for reading! 🙂
Harry x
*note: some of these photos have been taken from the Astley Clarke blog and instagram and obviously the bracelet images are from the website.