Today's post is a bit of a triple whammy, you lucky things! The reason being, in the last two weeks I've visited newest branch of The Blues Kitchen, in Shoreditch, not once but three times! So strap in and get ready to hear aaaaalllll abaaat it…
I first made an appearance there during their soft launch week (read: 50% off food) thanks to an invite from friend and former flatmate Helen, who, is the platinum blonde bit of Scouse you'll find in charge of the restaurant (that's when she's not wrestling live lobsters out of the tall tank behind the bar or showing off her unrivalled hula-hoop skills – seriously this gals got da moves!).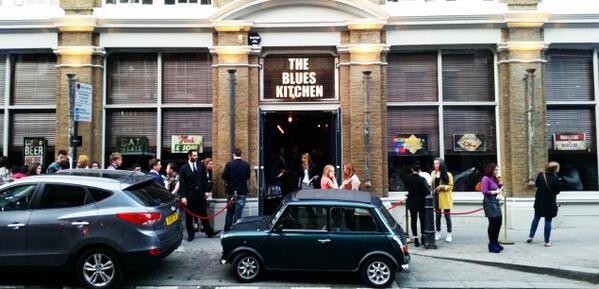 Anyway a coupe of Tuesday's ago – and  in the grips of post bank holiday depression (a visit to Newcastle can do that to a girl) – this invite couldn't have come at a more perfect time. I told my man we would be headed out on an impromptu date and to meet me on Commercial Road at 6.30pm.
I arrived late after the most wonderful thing happened and I bumped into my best friend on the tube!  Why doesn't this happen more often?! I find it's always the people you really don't want to see that you always bump into. Anyway, a quick sprint, a near death experience and an angry cyclist later and I was heaving the door open of The Blues Kitchen – Shoreditch to be greeted by a beautifully turned out door host; she took my name for the reservation and said we could pick any of the tall tables for two on the left hand side of the room. My boyfriend, who'd arrived before me, sauntered over from the bar, Sol in hand and we began perusing the menu.
With the aforementioned 50% discount we went a little Man vs Food on the ordering. Short beef ribs for him, burnt ends for me, chicken wings and onion rings to accompany. Sadly we steered clear of the fried alligator but had a portion of chips each too. We then ooh'd, ahh'd and oggled all proceeding food that flew past our table to the other diners. (Imagine eyes wide in awe and excitement and an unhealthy amount of excess saliva swallowing).
Not long later and our food arrived. It became apparent we were a little short on space where our table was concerned however some clever Tetris style manoeuvres and we eventually managed to to squeeze it all on without dipping too many burnt elbows in the burnt ends. Finally ready to start our attack on this Man vs Food challenge it also became apparent that I was probably going to lose. The portions of the ribs and burnt ends were HUGE. We could have ordered just one of the two between us and still had leftovers.
And if we had ordered just the one, it would probably have been the ribs. Although the brisket in my burnt ends was superbly cooked, for me, the sauce was very rich and very filling. I got to that point in my meal where I was dreading the next mouthful yet still wanting to eat more. The ribs though were on form and my boyfriend and I even questions whether they might be as good if not better than the ones we had at Dukes Brew and Que in Haggers. The chicken wings were super spicy and I could only manage one but then I've got a fairly low spice threshold, my feller – Mr Asbestos mouth –  thought they were great. The chips were a little over salted but as this was soft launch week we let it slide. Our waitress was very attentive and made sure we had everything we needed whilst not being annoyingly helpful. At the end of the meal Helen (the restaurant manager) popped over to find out our thoughts so she could iron out the few creases (over-salted chips) before their official opening week.
Stuffed and starting to get the meat sweats, I rounded off our meal with a huge ice-cream before getting the bill which came to roughly £30 with our 50% discount. Meals are all around the £12-£15 mark with ribs being on the pricier end at £17. Pretty average prices for London and as I mentioned the portions are huge so sharing is definitely an option. Before we left Helen gave us a quick tour of the rest of the venue. She took us in the super kitsch 1950s Caravan, which leads into a secret room and a stocked SMEG fridge – ideal for private parties! Then downstairs to their not-quite-finished private dinning room which, when done, will boast a private bar and DJ booth for you and your pals to party the night away with. All this made me very excited to return in the very near future.
And that very near future happened but a few days later when my sister and I popped in on a Friday night after our trip to Evissa. We propped up the ornately designed bar and were served several Espresso & French Martinis by the gorgeous and Greek Alex. He is the man when it comes to cocktails. He was also chatty and charming and made us feel very welcome.
At £8 a go the cocktails are well priced. We sunk a few before heading out into the night and looking ever more forward to the big launch night.
Launch night arrived a week later on a warm Wednesday evening. The sun was shining so, being perfectly honest, the Blues Kitchen wouldn't have been my venue of choice for an early evening drink. Like the portions, the bar is huge but it's also pretty dark and despite the large windows there isn't a lot of natural light. Non problem during the winter or late at night but for a post work pint when the sun has got his hat on? Probably not your ideal destination. That said the place was buzzing for launch night and a small queue had formed outside.
Inside I was met once again by restaurant manager, Helen, who was dressed to impress in a stunning vintage blue jumpsuit. She sent me off with my free drinks tokens and I took a seat, this time, on the right side of the bar at one of the low round tables in front of the stage. Out in full support of our pal Helen, not long after I'd gotten myself a 'free' G&T, was I surrounded by friends from all walks of Helen's life. Uni friends, old flatmates and ex-colleagues; we all agreed that the night and bar would be a huge success.
And a huge success it was, despite there being a few issues with there not being enough bar staff for the amount of people that needed liquid refreshment (I've since heard the Blue's Kitchen are on a hiring rampage!) the evening was fun-filled and lively. The music was loud and of course Bluesy, the highlight being a live 4-piece band stomping round the bar with Saxaphones and huge Sousaphone!
We all thoroughly enjoyed ourselves and even got a small sample of the menu – I braved it and chowed down on a couple those earlier mentioned fried alligator tails and can report back they aren't as bad as you'd think. In fact they're actually rather delicious. As the clock ticked towards 9pm we were sadly uprooted from our spot on the dancefloor to allow room for actual dancing rather than sitting and drinking and at that point, it being a Wednesday 'n' all, I made my goodbyes to stroll home in the still light evening.
I have been thoroughly impressed with The Blues Kitchen on all three of my visits. They've created a grand, glam and lively venue for you to eat, drink and be merry in. They manage to do what the Steam and Rye failed to in my eye. From the food to the cocktails to the atmosphere and sheer magnitude of what the place has to offer, there is something for everyone – well everyone that likes big plates of meat, loud bluesy music, lobster tanks, alligator tails, staff from all over the world, excellent cocktails and Caravans with their own secret room!
 http://theblueskitchen.com/shoreditch/