Friday night and I'm going no-where and all the lights are changing, red to green.
Oh wait, sorry that's the lyrics to David Gray's Babylon – remember him? I wonder where he is now….anyway back to the story:
Friday night and woah! We're going to Eivissa. Woah-oh back to the island…we're gonna have a party…in the Mediterranean sea! Sooorrrry, sorry those are the lyrics for 1998 mega-HIT 'We're going to Ibiza' by the Vengaboys (And what a hit it was, might I add) but at least they're also the start of this post…
Friday night and, woah, I was off to Eivissa, well an Eivissa of sorts…
Emporio Eivissa!
A 4-day pop up experience from Brugal Rum and Hire The Barman; to get us in the mood for the fast approaching summer and remind us of those hedonistic holidays on the Island that never sleeps.  I had the ticket, I had the tan (nice one, Garnier Summer Body) and I had my sister in tow all on the promise of cheap cocktails, Ibiza beats and bohemian boutiques.
Rockwell House Rooftop in Shoreditch was the setting for our white Isle dream. We arrived outside close to 6.30pm and were met by some burly (and slightly scary) bouncers, who were suckers for a bit of sisterly charm – they allowed through the doorway to Eivissa where we were greeted by a glossy and gorgeous air hostess. She handed us our 'boarding passes' and invited us to climb the 3 (doh) flights of stairs to 'Emporio Eivissa'.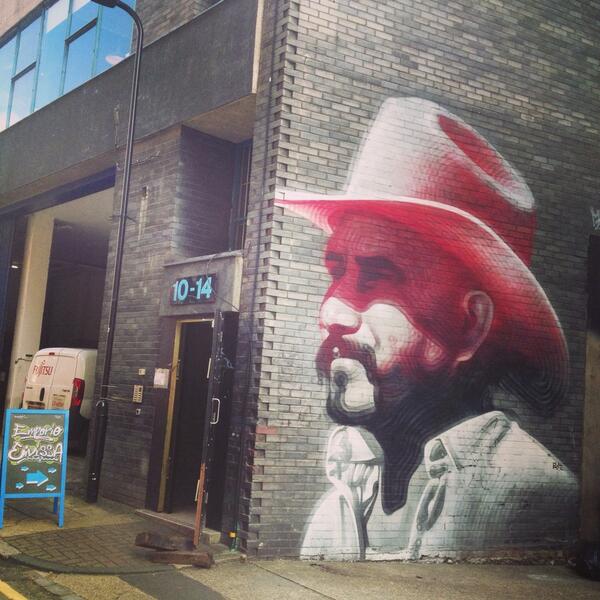 At the top we we greeted by yet more glossy air hostesses mixing up a fresh batch of coral-coloured ice cream. One lovely lady offered us a blue, Brugal branded hat each and told us to pull our best blue-steel as she snapped away with kitsch Polaroid camera; the other gave us a miniature cone of that ice-cream concoction which was laced with a punchy dash of the aforementioned Brugal Rum – yowza! They handed us the developing Polaroid, told us to enter the competition printed on the back (a holiday to Eivissa!) and sent us up a further winding staircase to the roof.
On the roof, we breathed in the (literally) cool East London breeze and took note of our surroundings. A huge canopy had been erected to deal with the not quite Ibiza elements and chilled Balearic beats were working their way through the after-work Shoreditch types that had gathered. We headed straight for the bar with our boarding passes in hand (complete with drinks discount) to grab a couple of 'Eivissa' cocktails – a summery blend of Brugal rum, ginger ale, lime and…well, I forget…does it matter? No, what matters is that they were dreamy.
As too was the setting – A bohemian vibe with white soft sofas, reclining seats and Brugal Rum blankets to keep out the cold. In addition twinkling fairy lights and lanterns were dotted around ready to shine on the evening as the sun began to set. We sat and relaxed whilst watching an incredible graffiti artist finish his masterpiece of Brugal Angel Wings.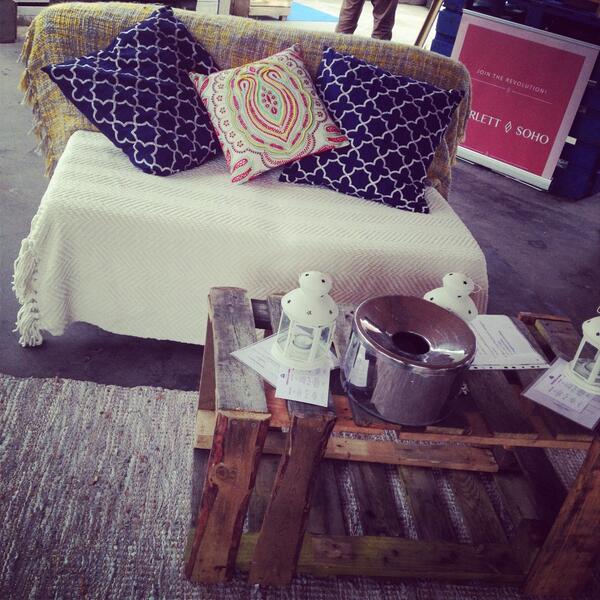 Also on offer were a range of quirky boutiques showing off their (and soon-to-be your) summer essentials. We ooh'd and ahh'd at some super-cool patterned crop tops and boob tubes before rolling our eyes at the thought of squeezing our white and wintery bodies into them. Other stalls included jewellery & sunnies, as well as the chance to get Henna'd. One thing we did miss was the Glittermasque girls who were due to be there on Saturday, not Friday…it was truly disappointing as both my sister and I agree, that our make-up life could always use a bit more sparkle!
As well the drinks and stalls there was of course an array of street food on sale, from where else but a beach hut. However my sister and I on an 'eating is cheating' vibe we swerved the grub in favour of more cocktails, before the cold finally proved too much to bear and we decided to fly home from Eivissa and back to boring reality.
We had a great evening at the Emporio Eivissa pop-up and it certainly got us in the mood for the pending summer despite the windy and rather cold weather. The cocktails were amazing and it's a great spot to enjoy your evening. With rumours of another event in the near future I'd keep an eye on Emporio Eivissa's Twitter so you don't miss out. After all if you can't make a trip to the actual Ibiza this year, with Emporio Eivissa you can still get a taste of the white isle.