Dry January, Dry Shmanuary!! While the majority of friends are cheers-ing high fiving to health and wealth in 2014 I have been spectacularly off the wagon since the 3rd January. While I actively encourage raising money for charity Dry January just wasn't for me.
From the surprise birthday I had the first Friday after new year's with a free bar and a group of friends hell bent on downing jagerbombs, to the beer swilling day out at the football where my beloved Sunderland destroyed Fulham in a 1-4 win at the cottage and subsequent celebration lead to a copious number of pints being purchased, a rather sore throat from cheering and a very sore head the next day.
Dry January was never going to work out. So continuing my bumpy ride off the wagon I thought it best to head to Hawker House where I'd be surrounded by not 1 but 4 bars and also a plethora of street food stands!
Meeting my friend on the eastbound central line platform (a difficult feat rewarded with a deadly 8% M&S gin & tonic) we headed over to Bethnal Green and walked up to Hawker House which is just off Hackney Road/ before Broadway Market.
In a shell of a building Hawker House is the winter delight from those guys at Street Feast who set up shop over the summer in Dalston and are pioneering a new trend in night markets for the masses. They make the most of almost any abandoned space and turn it into a haven of heavenly foods, music and booze.
We arrived just after 7pm on a Friday night and happily paid the £3 entry charge in exchange for a warm apple rum. Heading into the 'house' of Hawker we were greeted by a massive open plan room with street vendors lining the peripheral and giant canteen like tables in the middle.
We took a walk round inhaling the smokey goodness coming for the Bleecker Burger stall, the spicy twang from Baba G's Biryani Bar & Grill and oggled the doghy delights at You Doughnut.
Through a doorway to the left we made our way into a smaller room, this one with 'upstairs' wooden levels, comfy sofas and a Whiksy & Wine Bar to boot.
To say we were a little overwhelmed at where to begin was an understatement but like any good 20 somethings we knew a drink in hand would help clear our minds so made our way back into the main room for more of that Hot Apple Rum.
Hot Apple Rum in hand, we decided to first start with Breddo Tacos. At 2 for a fiver we decided to go halves and have one crunchy nut fried chicken with raspberry and habenero hot sauce and one 10hr chipotle beef short rib bone marrow with salsa.
Dripping in sauce, sour cream and general goodness we devoured the tacos two bites at a time. One was slightly spicier than I would have liked but the meat was so good I really didn't care.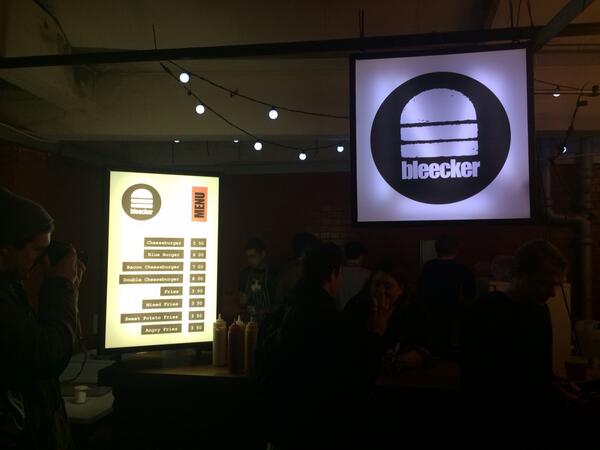 Next we got more rum and joined the queue for a Bleecker Street Burger. Sticking with a classic cheeseburger we dolloped our medium/rare (my ideal!) patties with mayo, ketchup and mustard and headed up onto one of the raised areas to find a comfy seat.
The meat was sublime and after my so-so experience at Patty & the Bun I'd began to wonder how good a burger could be? Bleecker Street set me straight on the matter and the taste of their cheeseburger simply said it all – a burger can be f***ing phenomenal.
In need of more liquid refreshment and the smoke hurting our eyes a little (ok a lot; the downside to the market being inside and especially the upstairs areas is that they're directly above some of the cooking stations so smoke is rife and you just know that big bouncy blowdry you did before coming out was a big waste of time now it smells like barbeque.)
Anyway we headed back down to ground level and over to Street Vin for a glass bottle of vino. We were persuaded into something a little sparkly and got a bottle of Vecchia Modena Lambrusco. In a gorgeous pinky/red hue and deliciously dry we took a seat reserved for customers of Street Vin and people watched before I ventured out for yet more food.
Across the room from us we spied Fundi wood fired pizzas so again decided to go halves and I ordered us up a pepperoni. Unfortunately for these guys though their ovens weren't allowed in the building so after paying my money and the guy literally running out the side door I was beginning to think I'd be had – this is still East London after all.
But no worry he was just dropping my order off to his partner in crime and craftsman behind Fundi – I say craftsman because the guys who own Fundi HAND MAKE the ovens themselves! Pretty impressive huh? Also Fundi actually means an expert in a particular area and after sampling one of their £6 pizzas (absolute bargs!) it's a name easily earned.
Finally full and thoroughly well watered we decided to venture out of Hawker House and into the night. There were still so many things I wanted to try (Yum Bun, Miss P's Barbeque, Baba Gs) so thankfully they are open every Friday & Saturday for 10 week run which is good news for me and even better news for you if you've not yet been. This is a great place for groups as the open-plan free for all and big tables mean that there's plenty of space for everyone.
http://www.streetfeastlondon.com/
Thanks for Reading!
Harry x