Bistrotheque is a hidden little gem just off of Cambridge Heath Road in Bethnal Green. I came across it when I was looking for a private dinning room in London for a Christmas party and it also lost out in a toss up with This Bright Field – which my boyfriend I went to a few weeks ago for dinner…and then breakfast. But anyway – still keen to go, a friend and I went there last Sunday after another, I know(!), stroll up Colombia flower market (seriously go there!). And when I say it's a hidden gem, I mean we walked straight past it.
Tucked away in what looks like a service entrance, half way down Wadeson street and up some stairs, Bistrotheque is a beautiful bright and open restaurant. With both a huge bar and seated dining there's plenty of space for all to pop in and sample this French fancy.
When I went with my friend we were tucked in the corner and serenaded by a live pianist. The piano was adorned with the most stunning and massive display of flowers I've seen – hopefully from Colombia market too! In addition the exposed brickwork and high ceilings really make this place feel like a very fresh and on-trend restaurant and the food follows this theme.
We both ordered pancakes after spying a few waiting to be delivered from the kitchen hatch on our way in. They arrived looking thick and fluffy topped with extra crispy bacon and lashings of maple syrup. They were, of course, as amazing as they looked and devoured to groans of delight – post instagram snap obvs. Ever since going to Amsterdam a couple of years ago I've been on the hunt for some amazing pancakes and I think I may have found them! Although with my savoury tooth I am still looking for somewhere that does them with cheese and more cheese (recommendations welcome?)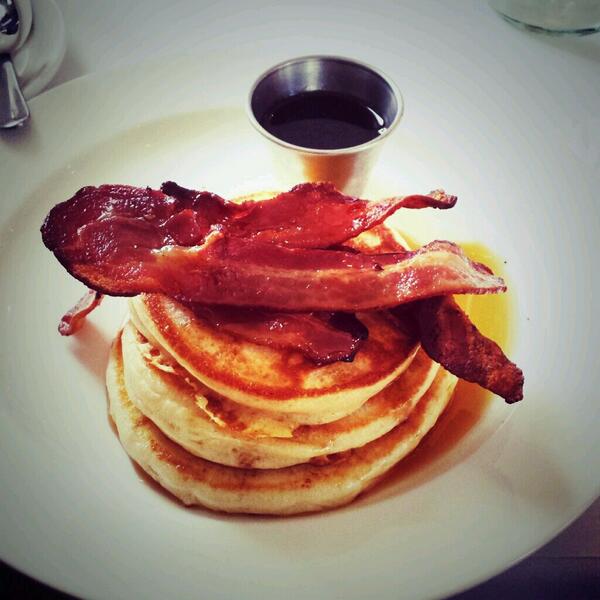 Drinks wise we stuck to classic coffee and OJ, the first smooth and a contender for the best coffee I've ever had, I'm also easily impressed when places can do those little patterns or pictures with the milk! The latter fresh and chilled. Just what a hungover Sunday needed.
The only slight downside with this place was there was a fair amount missing from the menu…upon sitting down our waiter informed us of a list of about 5 options that they didn't have. I don't know why or whether this is a regular occurrence but I for one was gutted not to have a little side of chorizo (I know that's weird with pancakes but first time there I wanted to order everything!) Also a bit funny as it was only just midday on Sunday?
Anyway I will definitely be going back soon as a huge mouthwatering burger zoomed past us to the table next door just as we were leaving! I also hear they have cabaret there of an evening…dinner and a good old knees up, just tell me when!