Gah, Christmas shopping. What a headache. Each year I panic more and more about what to get people and buy earlier and earlier out of fear of leaving it to the last minute.
Whilst the majority of it has been done on-line (and via Quidco – seriously how have I only just found out about this site?!) there were still a few bits that needed to be collected in person. Which hasn't been a problem as my offices are just behind Oxford & Regent's street so lunch breaks allow for daily browsing and buying.
Today though, well today I idiotically ventured into Hamleys. A week before Christmas. At lunch time.
Jesus, I must have been crazy because it was, cray cray crazy in there. Employee of the month Bubble 07 nearly took a fist to the face the third time he sprayed me with his bubble gun, an elderly grandmother thought twice about picking up the last remote control 'Chuggington' I had my eye on and I'm not proud of it but there were roughly eight 5-6 year olds that were mowed down by me scrambling for the exit. It was carnage.

So after that it was only fitting that I retreat to the calm, welcoming beacon of minimalism that is & Other Stories after such a distressing episode.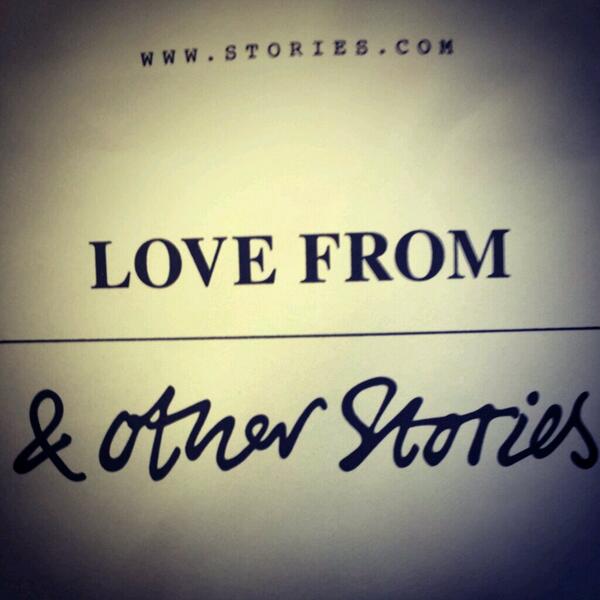 Some of you outside of the capital may not have heard of & Other Stories as they opened their first flagship store in London, only earlier this year. The brain child between H&M giants, Hennes & Mauritz, & Other Stories is a slightly more elegant and luxurious version of H&M – prices are higher but not disgustingly so. There are a lot of very affordable items and they look amazing quality too.
In addition to being pricier there is a much more fashion feel to this place in the sense that some of the stuff can be a little out there but there still remains a simplicity to a lot of the items and much of it feels like it could be a staple to your wardrobe. It definitely doesn't feel like a fast fashion shop. No tartan trousers in here I'm afraid! It's reminiscent of something from Acne or perhaps Alexander Wang.
But – back to today!
Safe in the warm, white interior I was specifically looking for a long gold necklace to replace the one I had from Urban Outfitters and have obviously lost (classic Hazza!). I found it in the form of this beautiful gold orb necklace. I love that it sort of feels like two necklaces in one with the clear glass orb in the middle of the circular mental plate. I literally can't wait to wear it…and wear I will. Tomorrow most likely with a plain white t-shirt.