I'm sure I'm not the only one who's noticed the explosion of burger restaurants in London this year? It seems every week a new joint is opening, professing to have the perfect patty recipe. From Shake-Shack to Five Guys, Meat Mission to Brgr co. and the one this post is about – Patty & the Bun.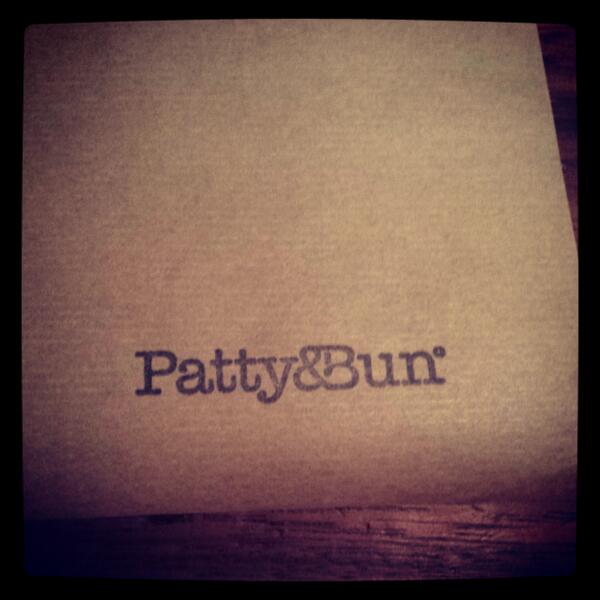 Just round the corner from Selfridges, one Friday after work, my boyfriend and I decided to go and see what all the fuss about. Arriving first, I joined the seemingly small(ish) queue outside and popped our names on the wait-list. I took the fact that there was a queue to mean that this place would live up to it's hype whereas my cynical boyfriend took it to mean that people are stupid were joining only because there was a queue and that no-one in the queue had actually been before to know whether it was any good or not and therefore worth the queue (make sense?).
Anyway – a good 30 minutes later and we were thankful it was a un-expectedly warm and dry evening in October as I doubt we would have lasted that long in less forgiving weather conditions. Once we got inside we were pitched up on a table for two that was a little too comfortably close to the next set of dinners. It was cosy to say the least. We were handed menus which were on the small side variety wise. I know it's a burger restaurant and there's only so many ways you can serve meat in a bun but I assumed there'd be a longer list of 'mains'.
Being a big fan of Entourage I went for the Ari Gold burger which is essentially a classic cheese burger and my boyfriend had the Smokey Robinson. I was a bit disappointed that the waitress didn't ask us how we wanted our burgers cooked – I thought the whole point of this burger restaurant craze was that they offer you more than your average McDonald's and that included a rare, medium or well-done patty? Anyway we also ordered sides of chicken wings.
As we waited for our food to arrive I couldn't help but notice how loud the music was. Now I know this makes me sounds like a proper old lady but it was probably too loud. I didn't really feel I could have a proper chat with my bloke without shouting over the 90s hip hop. Not necessarily a problem though as they were playing some proper tunes and I was more than happy to sit back and have a sing-a-long…I think you forget how good old music is and my fellow diners clearly thought the same with a date across the room getting their groove whilst passing the burger sauce and a table of 4 ladies next to us having a serious hairbrush moment to Destiny's Child – we were all so close to breaking out into a full on scene from Fame complete with dancing on the tables! Which to be honest has always been a secret dream of mine!
So when our burgers did arrive it was a welcome relief for my boyfriend to avoid the modern-day musical he was so not ready to star in. The Ari Gold and Smokey Robinson came wrapped up in paper with personalised stickers of the name on each to tell them apart – really nice touch P&B! However once unwrapped and half way through munching it became apparent that for me a my boyfriend this wasn't living up to the 5 stars everyone else has given it. Don't get me wrong it was a nice burger but was it worth a 30 minute wait outside? No probably not. My burger was just too moist and the bun became a super soaker-upper for the grease. I love a good juicy patty but this one was too much on the sloppy/messy side. There was no crisp bun of sharp gherkin to give you that serious taste sensation. It was just alright and my boyfriend was on completely the same wavelength.
I would say this place probably suits the take away theme more than it's sit down and dine efforts. We'd devoured our burgers pretty quickly (it did feel like we'd be waiting an age to get in and sit down so we were starving!) and with Dr Dre "All these niggas and all these hoes in here, ain't
Somebody here gon' fuck" blasting away in the background there didn't see much point in hanging around for a chin wag. Very much an in-and-out kind of place which is hard when there's a mile and half queue outside.
Still if you're keen to try them out then you can catch these guys at Night Tales – a pop up entertainment space combining of the moment street food stalls, music and of course booze. It's based in Dalston and open every weekend in the run up to Christmas and the queue may be shorter than at the restaurant.