Another one on my list; I decided I wanted to go to the Smokehouse when I saw a picture on their twitter of the outdoor area.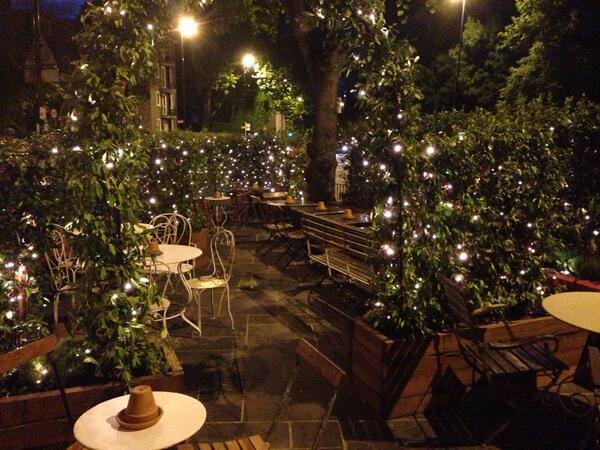 ROMANTIC.OR.WHAT!!!
Admittedly not the best reason to pick a restaurant but fairy lights can do that to a girl. Following up the picture with some fun-filled research (google is my life) I found out that it was likely the Smokehouse was more than just a pretty face back garden. With rave reviews from the Guardian and the Independent this twinkling little haven seemed more than worthy of a spot on my list.
Seemingly N1 is the postcode for the newest foodie haunts and my boyfriend and I were taken in that direction when we attempted to try out the taster menu of Le Coq during their soft launch week (read: 50% off). Yeah, what a great idea that was? Le Coq have followed the crowd with their nonchalant approach to booking (read: you can't.) which meant that after a half an hour wait at unbelievably cute pub cum theatre, The Hen & Chickens, across the road we were told our table would still be another 15 mins. Urgh. A never ending wait time and a hungry dinner partner is a recipe for disaster. So a quick rethink of where was close-by and good was in order.
VIVE LA LISTE!
Luckily I've taken to noting a postcode or area next to the restaurants (I literally just high-five myself) so that I know where's where for location emergencies. Therefore Smokehouse N1 was our logical saviour.  My taxi driver boyfriend new exactly where it was in relation to where we were, so less than 5 mins later we were sat at a table, desperate to order anything to stop us from keeling over.
Out imminent death by starvation of course meant that the staff were a little lack lustre in their immediate service. I actually had to go and ask for menus myself (oh the horror) rather then being enthusiastically, presented with one and it wasn't very clear whether we had to order at the bar, could sit in the restaurant or take a table outside to eat? Boyfriend took this to mean we'd made a terrible decision and the food would also be as dismal as the initial service but things did pick up.
Absolutely ravenous we went for starters and mains (and gave our order to a waitress at the table, I know you were still confused). Now, I'm not ashamed to admit; the menu did stump us a bit and I had to google brisket. Oh quit judging. Not everyone grew up on fois gras and caviar. (p.s. you're welcome for the link). So a brisket and the duck confit to start and two steaks for main. Not the sharing steak for two mind, as someone likes their meat charred beyond recognition. Orders in we were literally chomping at the bit for it all to arrive.
My starter was the duck confit and personally, I didn't like it that much – too cold and too fatty (maybe that's how it's supposed to be?) I was uber jealous of the delicious brisket across the table from me. It was utterly more-ish and of course was wolfed down in preparation for the mains.
To be honest when our steaks arrived it was a little tricky to tell which was well done and which was medium rare. Hmmm *alarm bells*. But despite this little hiccup when we did eventually work it out we greedily began tucking in. And how were the steaks? Well conversation quietened quite considerably which is always a fairly good indicator. Saying that though I wouldn't rate it better than either my Gaucho or Goodman's experience.
In addition to the meaty menu is a huge selection of craft beers on offer (see blackboard pic above – WOWZA!). This is of almost absolutely zero interest to me seeing as I only drink beer when: a) at football matches with my dad. b) there are no other alcoholic beverage in a 50 mile radius c) I've had so many G&Ts I don't know that it's a beer I'm drinking. But checking out the number of taps behind the bar, I was impressed!
I've since been back to the Smokehouse with a friend for a Sunday roast and the service was faultless as was the beef. So faultless in fact that my mouth is filling with saliva at the mere memory of it (the beef, not service, I don't salivate over service…unless it David Beckham doing the serving?!). Now if the first visit didn't whet my appetite for a return the second definitely did. I think it's fair to say this place is still a grower for now – it's still fairly recently opened so you hope with time it will be spot on everytime you go.
I've also since found out that the chef at the Smokehouse is Neil Rankin who used to head up the Pitt Cue Co. which is the once foodtruck on southbank, turned packed out restaurant in Soho and another stop on my list!
You can find the Smokehouse a short walk from Highbury & Islington station.
http://www.smokehouseislington.co.uk/