Have you ever watched Cribs on MTV and thought;
'I want money so I can have a cinema like that in my house to watch films.'
Or
'I hate going to a massive, freezing cold multi-screen cinema which is often littered with chavs and loud eaters'
Well someone else has thought those things too and thus, I believe, the Aubin and Wills cinema was born.
I recently spent a Sunday evening at watching the Oscar nominated film The Fighter and it was by far and away the best cinema experience ever. Even better than Gold Class in Dubai, a place where they try and do everything bigger and better than anyone else.
The cinema is run together with the uber-cool Shoreditch House although can be enjoyed by members and non-members alike (yay for me!).
After spending 20minutes trying to find its location on a backstreet in Shoreditch (my wannabe taxi-driver boyfriend finally bowing in appreciation to his eagled eyed girlfriend who spotted the massive AUBIN sign on the side of the building) we entered the cinema and were pleasantly surprised to not only find a well stocked bar BUT an Aubin and Wills shop and Gallery, bonus!
The building itself screams trendy east-end but once downstairs and in the theatre you forgot any pretension and revel in the large comfortable seats or if you were lucky enough to book one with your beau, 2 seater luxury sofa. In addition to this there are footrests and Aubin & Wills pillows and the odd blanket should you require!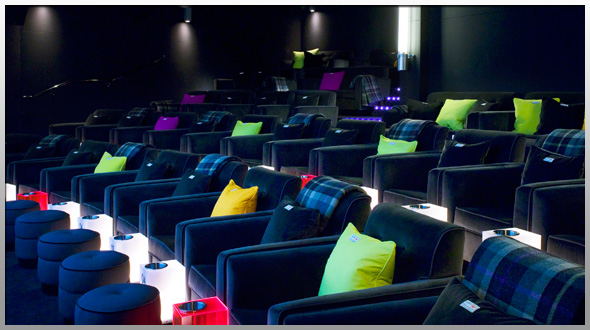 The small and intimate setting of only 45 seats allows you to be completely captivated by whichever film you have chosen to view. The surround-sound is amplified in the small area and the pleasant crowd don't seem to feel the need to eat their over-priced (come on it needed one flaw) popcorn or snacks like grazing cattle or hyperactive 6 year-olds.
And it's also available for private hire!
Great little find but shhh, we don't want everyone to have heard about this latest!